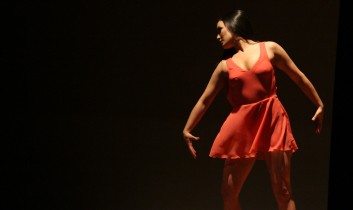 It may be the middle of winter, but things got HOT during Godanz' 3rd Annual Bachata Festival in Toronto.  The event kicked off with a sexy Valentines Lingerie Party.
With beautiful body painted ladies feeding guests strawberries, amazing high energy performances and guests dressed in their sexiest lingerie and pajamas, we could hardly wait to see what the rest of the weekend had in store for us.
The rest of the weekend exceeded all expectations!  All the performances where incredible, exuding a ton of energy, charisma and passion. They captivated the audience, and the applause after each performance just became louder and louder throughout the night.
After the performances one may expect the energy level to fall a bit. This was not the case at all.  When you call up some of Toronto's greatest DJs to come out and keep a party going, you know they are going to bring their A game. The party continued all night, each night.
With an amazing  group of "Taxi dancers" ensuring everyone was up dancing -whether new to the Latin dance scene or a pro dancer already, and very sweet and welcoming hostess, Salsa Steph, it was a very welcoming and great weekend for all lovers of dance.
About Author