Shoe Trends for 2013: Are You Ready for the Surprise?
By Mixx — July 16, 2012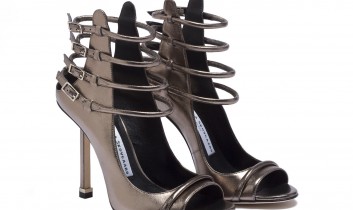 Shoes form the most important part of your attire for both men and women. It is an accessory you just cannot miss out on for it makes your look complete. We pay attention to all that looks awesome, beginning from the head to the toe. Quite obviously, we know which shoe trends will rock it in the upcoming year. If you do not want to keep guessing, read through and know for sure!
1) Stilettos that Make You Shine
High heels are definitely making it big almost everywhere this year and why wouldn't they? They are sexy creations for the feet that will stay very much a hot shoe trend for the next year of 2013. The tapered, thin and long heels that are characteristic of stilettos make your style into an enviable one. Not to forget, you can slip into a pair of smoking hot stilettos in any season of 2013. Black and red colour options are hard to beat in 2013 and can be worn to any formal or casual event. Same goes for two toned stilettos.
2) Welcome Wedges For 2013
Oh yes, designer wedges are more than just welcome for the soon to arrive 2013! Wedges with ziz zag, reptile pattern look extremely chic especially when you'll get to wear it next year. The closely observed fashion shows for spring and summer 2013 saw the dominance of wedges with ankle strap and peek toe style. The upcoming year will also witness playful combination of colour tones and bright designs for eye catching illusions.
3) Brogues for Men and Women
Low, medium to high heels are available as the perfect shoe option for winter season that will make it to the next year with more bang. For women, a brogue is a unique style that goes well with jeans, shorts and short dresses too. Prints of flowers, add- ons like cute tassels and laces make brogues a classic shoe trend for 2013.
4) Mules Will Rule
It pays off to carry a shoe trend that is described by many as 'difficult'. With a little practice, your feet and legs will be the centre of attraction in 2013. The pastel hues and shinny toe caps to it make it a good purchase and will be seen more frequently on stars who dare to be different than the rest.
5) Ankle Boots
Like 2012, the next year too will experience a fair share of ankle boot rage. Electric colours and designs with lace, animal prints and faux fur will make headlines in the fashion scene. Oh yes, how can we forget to mention the ankle boots with embroidery and designer motifs on it? You can have our word for it- The above mentioned ankle boots and even the ones with colour blocking on it will rock 2013.
Buy high heel, platform or wedge heels in ankle boots so that you are one of the first people to flaunt the style in 2013.
Keep a note of all these shoe trends and stay ahead next year.  Remember, shoes are one of the first things people note about you.
Read more: Shoe Trends for 2013: Are You Ready for the Surprise http://trendnstylez.com/shoe-trends-2/shoe-trends-for-2013-are-you-ready-for-the-surprise-2050.html#ixzz20oxkEt7s
About Author