Sexy lingerie for summer 2013
By Guest — June 12, 2013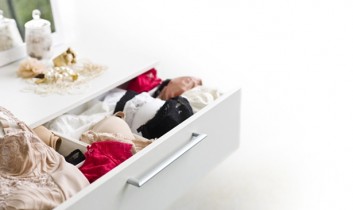 You and your wardrobe are all set for summer but how about your lingerie drawer? With these bras and briefs, you'll be all set for even the hottest days.
1. Smart, smooth and light
Tight tops, T-shirts, and see-through blouses demand a smooth bra that makes the most of your natural curves. The elegant Perle and Couture bras with foam cups show off your bust perfectly under close-fitting, summer clothing.
If you're looking for a smooth bra in an eye-catching colour or a pretty print, the right foam bras are just the thing.
A very light  spacer bra will keep you cool on the hottest summer days.

And don't forget to choose the right briefs to go with your light summer wear. Rio briefs, shorts or hotpants: whatever style you choose, an invisible finish  is a must.
2. Sensual shoulders
There's nothing quite as sensual as a pretty frock that leaves your tanned shoulders bare. Unless your bra has inelegant shoulder straps. Avoid this kind of faux pas by choosing a comfortable strapless bra, like foam bras with smooth cup, or an elegant, fine halter neck style.
3. Your figure in shape
Not sure whether your body is totally ready for revealing summer clothes? Sexy shape wear briefs or a figure-styling body does wonders for your curves and your self-confidence. The latest generation of shape wear is made from light but sturdy materials you can continue to wear in summer. Like  control briefs: made from fine Charmeuse, a light, silky soft fabric that mercilessly sculpts your tummy and waist into shape.
4. Invisible under white
This might surprise you, but white lingerie is not a good idea under white clothes. If you're looking for an invisible colour, reds, pinks and nudes are what you need to go for. Pink is also a wonderful summer colour that flatters tanned skin.
If you would like to know where to get some of these fashions then send us an e-mail and we will be more than glad to direct you depending where you live or we could even have it shipped for you.
About Author