Make-up Tips for Salsa Dancing
By Guest — June 24, 2013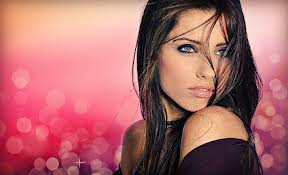 Learn easy make-up tips for allure while Salsa dancing. This simple guide to dance beauty can be implemented for any occasion.
By Ashanti Altovese Griffin
As a wise man once said, "Beauty is in the eye of the beholder." One who beholds herself should see beauty from her unique features, created from the loving union of two equally unique parents. Women everywhere look to magazines and television for their ideal image of beauty when in fact the best place to see it is in the mirror. Regardless of the background, ladies can enhance their own natural beauty by artistically augmenting their facial palette with easy make-up tips for allure on the dance floor and beyond.
Salsa Dancing Allure
Salsa is an intoxicating dance that can create an environment of sensuality from the suggestive body movements that are performed during the dance. Women and men, moving to Latin rhythms while connecting with each other on a physical level, can also generate an emotional bond through dance. With the romantic notion of love at first sight, women can find their prince charming on the dance floor by exuding confidence and radiating allure with a positive attitude, strong sense of self, and enhanced natural beauty.
Make-Up Tips
To radiate allure while Salsa dancing, women can implement these simple make-up tips for elegant and glamorous beauty. First, women should use natural products for make-up application, as the skin can easily become agitated from chemicals mixing with sweat and oil while dancing. Mineral-based liquid and powder foundations are a good option for achieving a flawless look but should be applied lightly.
Highlight the cheeks by dabbing a spot of colored lipstick and working it up the cheek bone for a soft rosy appearance. Add sheer lip gloss to the lips and for a more sparkling effect, sprinkle glitter on the top and bottom to draw attention to this enticing body part.
Manicure the eye brows to give the eyes a lovely arch that complements their shape. If desired, one could draw on eyebrows, but a stencil should be used to aid in the symmetry and design of the brow. Eyes can be intensified with an outline of black pencil traced from the inside corner to the outside point. For a more exotic look, one can add a short line extending from the top and bottom of the eye point for an Egyptian goddess feel. Lastly, cover the eyelashes with dark black mascara for dramatic appeal and to add flare, apply lip gloss to the eye lid and sprinkle glitter on them for even more pop.
Each woman is beautiful in her own way and commands respect through her poise and self-assurance. Through the above make-up tips, natural beauty is enhanced and balances the inner qualities that make a woman attractive. On the dance floor and in other aspects of life, enhanced natural beauty reflects the character that lies within and brings allure from courage, perseverance, self-knowledge, and education to the attention of people everywhere.
About Author