11th Annual Canada Salsa Congress 2013
By Mixx — September 20, 2013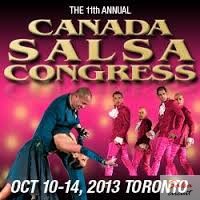 Canada Salsa Congress 2013
The 11th Annual Canada Salsa Congress 2013 billed as one of the largest in Canada will be full of excitement and surprises –  with more dance genres & more fun than ever!  Salsa, Bachata, Hustle, Kizomba, Cha Cha, Pachanga & more.  The best artist line-up, shows, workshops and parties!!
This year's event will be held at the Sheraton Centre Hotel in downtown Toronto, October 10-14, 2013.
35 International Artists from Colombia, Dubai, Chile, Puerto Rico, Italy, New York, Miami, Mexico, Philadelphia, LA & more
60 Dance Companies & 45 of the best instructors in the world.  Amazing shows each night.
Workshops for all levels.  Explore, Improve, Master.  Salsa, Bachata, Cha Cha, Pachanga, Hustle, Kizomba & more.
3 Ballrooms & parties till 4am – Salsa, Bachata & Kizomba, Hustle & West Coast Swing
7th Annual DanceFeet Canadian Championships.  Pro, Am-Am & Pro-Am divisions in Salsa, Bachata, Hustle & Cha Cha (heats & showcases)
If you are going to one congress this year then this will be an event not to be missed!
About Author